Stream to 3D - Usage and Configuration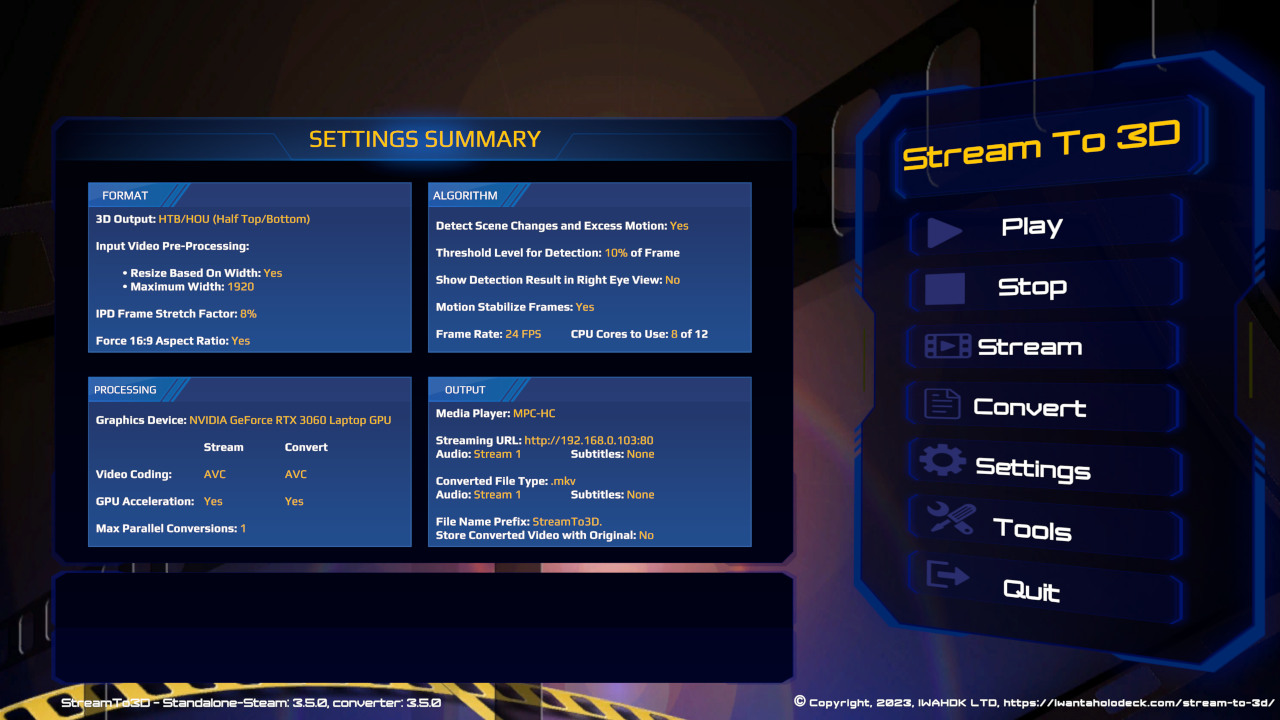 The Steam installation of Stream to 3D will automatically provide a desktop short cut to the application, you can launch from the short cut or from your application library within the Steam app.
If you acquired Stream to 3D from another store, then the application can be found at the location below (default):
C:\Program Files\StreamTo3D\StreamTo3D.exe
Consider creating a desktop short cut to the ".exe" for your convenience.
When first launched, the application will open in full-screen mode and show the main page as above, providing a summary of current settings and presenting the main menu. This full-screen mode is intended to faciliate usage in a VR headset, when being used in conjunction with Virtual Desktop or BigScreen (for example). You can switch to Windowed mode with the ALT+Enter key combination.
When the Real-time Conversion and Playback mode is being used, via the "Play" menu button, Stream to 3D converts 2D video to 3D and displays it on the PC desktop in Side-by-Side or Top-Bottom 3D format using either; MPC-HC, PotPlayer or VLC as a media player. To view in 3D, this desktop view can then be streamed to a VR headset (using Virtual Desktop or BigScreen) or alternatively displayed on a 3D TV or 3D projector.
Note that Stream to 3D is NOT a VR application itself, it is a Windows desktop application. In a VR real-time playback context, it works with Virtual Desktop and BigScreen's PC/VR streaming to enable 3D video viewing in VR headsets.
You can alternatively convert your video files to 3D using Stream to 3D's video file Conversion function or use its Stream function to convert and send the video to media players that support video streaming. Streaming in this way works with both VR headset media players, such as PigaSus, as well as those for other devices e.g. VLC for the Fire TV Stick and does NOT require Virtual Desktop or BigScreen.
The application has been designed to be relatively intuitive in operation, with sensible defaults. However, you will benefit greatly by reviewing the guidance, which includes demonstration videos and configuration details for common supporting tools such as media players, as well as tips on video conversion and usage for different device types and players from VR Headsets to 3D Projectors and TVs.
The links below provide detailed guidance for the headline items:
If you need additional support, check out the options on the support page: