Stream to 3D - Step into a New Dimension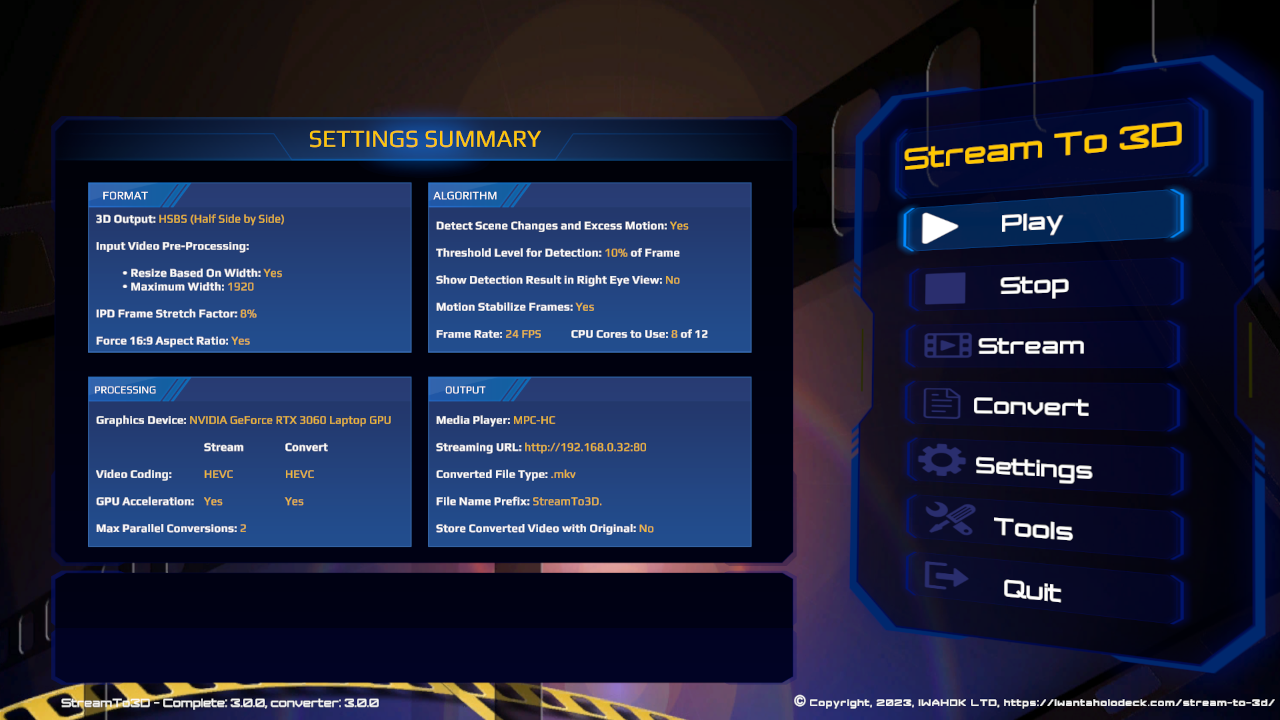 Just click to play your 2D videos in 3D, with one-week free trial! Also, now available on Steam.
Stream to 3D provides fully automatic on-the-fly conversion of 2D videos to 3D, as they are played or streamed, as well as off-line video conversion.
Experience the extraordinary with Stream to 3D, the ultimate solution that brings your 2D videos to life in breathtaking 3D. Unlock a world of limitless possibilities as you embark on a journey of immersive entertainment. Now available in the Stream to 3D Store, including a one-week free trial or on Steam!
The demonstration video below shows an example of a 2D clip being converted to 3D in real-time and played back in a Meta Quest 2 VR Headset with; Virtual Desktop (via MPC-HC), BigScreen Steam VR (again via MPC-HC) and finally being streamed direct to the Pigasus VR Media player via HTTP video streaming (new for Release 3):
Unleash the true potential of your video library with the cutting-edge software that revolutionises the way you view 2D videos. Whether you're a VR enthusiast, a proud owner of a 3D projector or TV, or simply seeking an immersive visual experience, Stream to 3D is your gateway to a world of captivating 3D content.
Example Output
To obtain the clearest idea of the quality of the conversion solution, take a look at the example below of the 2D "Pacific Rim" trailer converted to 3D, with frame rate conversion to 48 FPS. You can also view or download the full resolution versions of the 3D converted "Pacific Rim" and "Avatar: The Way of Water" trailers in different formats and at different frame rates from here.
Real-Time Conversion and On-The-Fly Playback
With a simple click, watch your 2D videos instantly transform into stunning 3D masterpieces. Stream to 3D supports fully automatic on-the-fly conversion, allowing you to enjoy your favourite content in real-time. Say goodbye to the tedious process of pre-converting videos - Stream to 3D seamlessly converts them as they are played. Immerse yourself in a new realm of visual wonder, with depth, detail, and dimensionality that will leave you captivated.
Stream Video in Real-time
First class support for video streaming means that you can now stream your real-time converted 2D to 3D videos to a host of new devices including your phone, tablet, laptop, Smart TV or Projector (both 3D and 2D devices are supported - via Colour Anaglyph 3D (Red/Cyan))  as well as stream direct to your VR headset.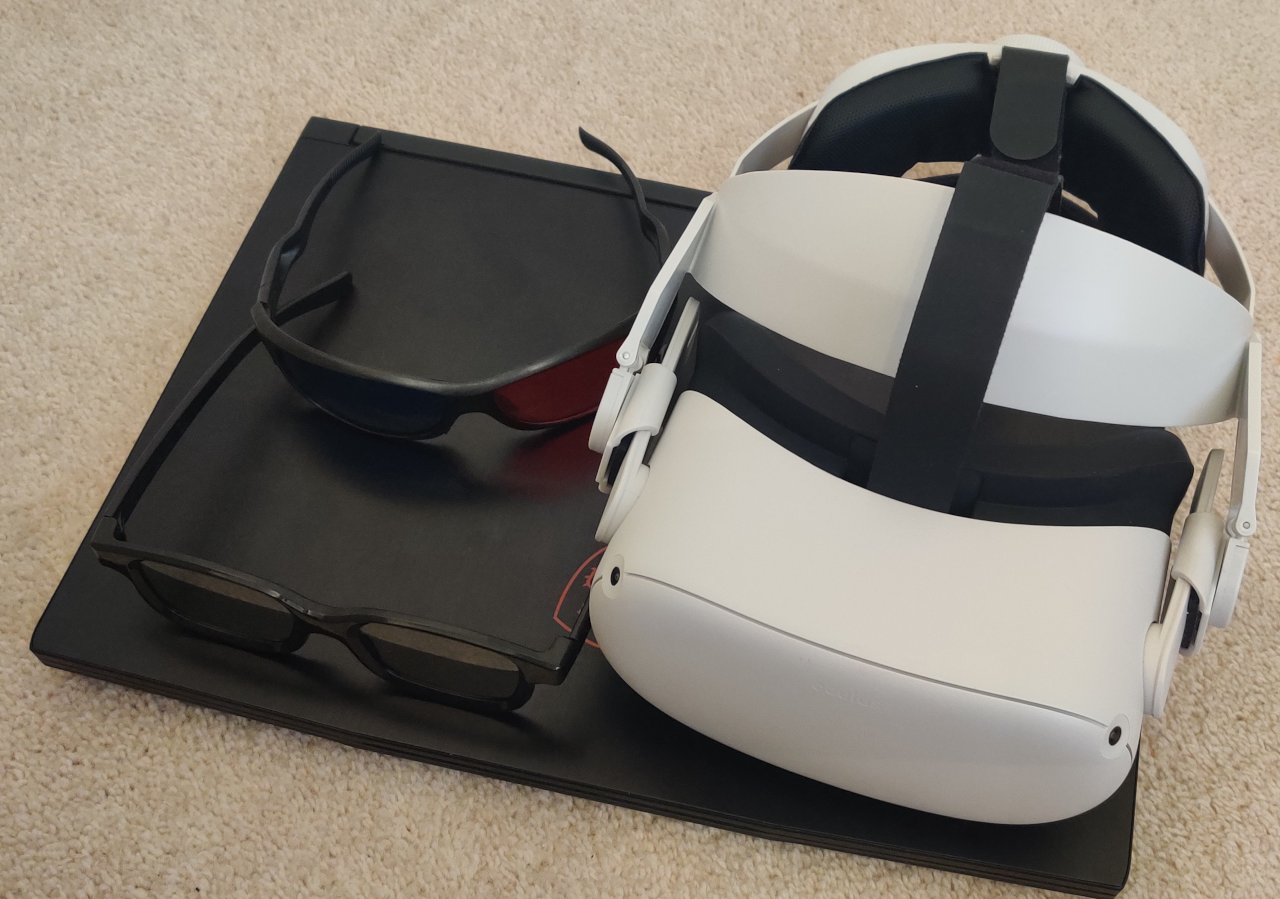 Cutting-Edge Technology for Realistic Environments
Powered by advanced algorithms and state-of-the-art technology, Stream to 3D ensures every frame is transformed into a realistic 3D environment.
Dive into your favourite films, TV series, and videos, and be amazed as the visuals leap off the screen, immersing you in a world of unparalleled depth and realism. Experience the magic of 3D like never before, and let Stream to 3D transport you to a whole new dimension of entertainment.
Unleash the Power of Off-Line Conversion
Stream to 3D not only excels in real-time conversion but also empowers you with off-line conversion capabilities. Convert your 2D videos to 3D one at a time or in batch mode, allowing you to unleash the full potential of your video library. Play on-the-fly converted videos while the off-line conversion takes place in the background, maximising the utilisation of the resources of your machine to deliver the highest quality results.
Designed for the VR Community and Beyond
Although providing full support for generalised 2D to 3D video conversion tasks, Stream to 3D has been crafted with particular attention to the needs of the VR community. We understand your desire for unparalleled experiences, and our software is optimised to work seamlessly with popular VR media player applications such as; Virtual Desktop, BigScreen, Pigasus and Sky Box VR Player (to name but a few). Combine Stream to 3D with PCVR media players like MPC-HC, PotPlayer, or VLC, and unlock a world of 3D possibilities.
Handle Any Resolution Video
There are no software imposed limits on the resolution of the 2D input video and 3D output. A modest PCVR setup can easily handle 1080p conversion to 3D Full SBS output in real-time, 4K conversion to 3D in real-time is also possible with some parameter tuning.  
Frame Rate Conversion
3D output is generated at 24 FPS by default, but Stream to 3D can support output frame rates at up to 120 FPS, with a range of standard frame rates in between; 30, 48 and 60. Frame rate conversion is a resource intensive activity, but on a modest 3060 GPU based laptop (for example), real-time conversion frame rates of 48 FPS on 1080p input with HSBS 3D output is quite achievable. Obviously, unless you have a beast of a machine, the higher frame rates would be more appropriate to apply in off-line conversion.
Seamless Integration with VR Headsets
Stream to 3D makes it effortless to enjoy your favourite content in stunning 3D on VR headsets. Simply download the Stream to 3D PC Windows application, open your 2D video file (with support for a wide range of formats, including .mkv and .mp4), and witness your videos transform into breathtaking 3D experiences. Whether you're using Virtual Desktop, BigScreen or streaming to an on-headset media player such as Pigasus, Stream to 3D seamlessly integrates with your setup, offering unmatched visual quality.
Customisation and Preset Configurations
Tailor your 3D experience to your exact preferences with Stream to 3D's comprehensive customisation options. Create your own configurations for specific scenarios or choose from out-of-the-box presets designed for your favourite 3D media playback solution. All settings are fully customisable through the intuitive user interface, giving you complete control over your 3D experience.
Join the Stream to 3D Community
Discover what others are raving about! Users have praised Stream to 3D for its convincing and high-quality results. Whether you're using it for standalone viewing or streaming purposes, the software has garnered positive feedback for its speed and performance. Join the community of satisfied users and unlock the full potential of your video library.
There is an active community on the Stream to 3D Discord Server. Users are using it with their Augmented Reality glasses, VR headsets and 3D projectors, sharing content with their friends via the likes of BigScreen, and targeting high-resolution, bit rate and frame rate 2D to 3D video conversion tasks on their favourite content.
"just tested stream to 3D and found the result very convincing. Much better than other converters I tried..."
"Did some testing on it today and am super impressed with the results..."
"Software is good so far, for standalone and streaming use. I can recommend this.  So thank you"
"I bought this on standalone and i did test it so far with very good results. I do like the speed of the program especially for taking movies with me on travels, with the oculus..."
"Hey good job with the 2d to 3d movies for virtual desktop"
"ANYWAY it's awesome software and i am happy i bought it."
Enter a New Dimension of Entertainment Today!
Don't settle for 2D when you can have the awe-inspiring power of 3D. Try Stream to 3D today and witness the incredible difference for yourself. Step into your personal holodeck and immerse yourself in a world where imagination knows no bounds. Visit the Stream to 3D Store now and start your one-week free trial.
Remember, this is not just software - it's a gateway to a new dimension. Stream to 3D, where imagination becomes reality. Get started now and take your entertainment to a whole new level. The holodeck awaits you.
If you have any questions not answered above, check out our FAQ or if you are all set go to, visit the Stream to 3D Store now to start your free trial!‌