Stream to 3D - Product Overview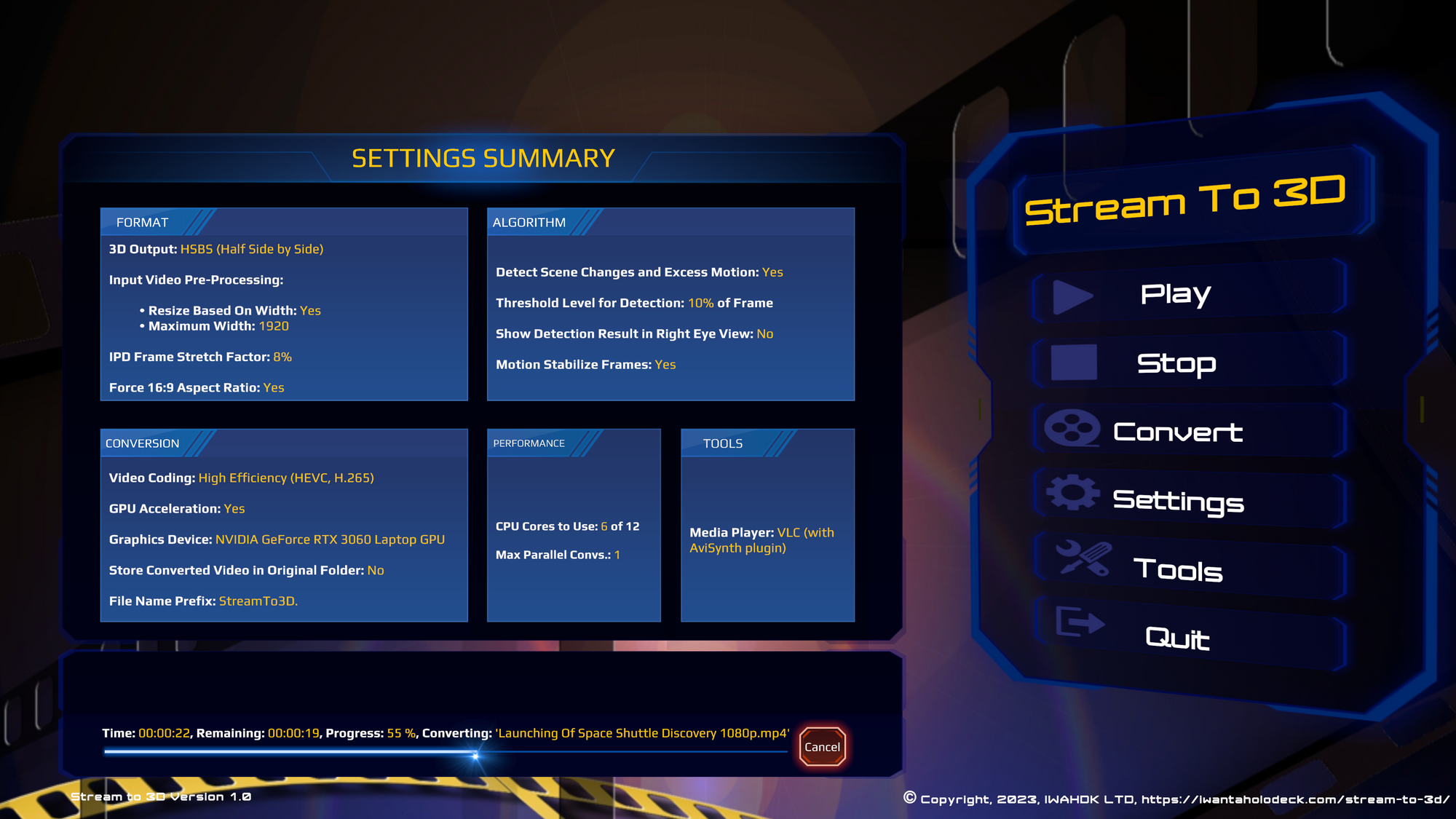 Just click to play your 2D videos in 3D! Now available in the Stream to 3D Store, including one week Free Trial! There are both subscription and one-off payment options.
Stream to 3D supports the fully automatic on-the-fly conversion of 2D videos to 3D, as they are played, as well as off-line video conversion.
Stream to 3D is specifically focused on the needs of the VR community in terms of enabling the viewing of 2D media in 3D, without the need for conversion in advance. It has been designed with explicit support for VR 3D playback solutions such as BigScreen (Steam VR) and Virtual Desktop in conjunction with media players such as; MPC-HC, PotPlayer or VLC.
Powered by advanced algorithms and cutting-edge technology, Stream to 3D seamlessly converts 2D content into realistic 3D environments, with depth, detail, and dimensionality that you have to see to believe. Whether you're watching a classic film or favourite TV series, Stream to 3D delivers an unparalleled level of immersion that will leave you breathless.
Stream to 3D is easy to use and compatible with VR headsets via Virtual Desktop and/or BigScreen Steam VR. Simply download the Stream to 3D PCVR application, open your 2D video file (a wide range of formats are supported including .mkv, .mp4 etc) and start enjoying your favourite content in stunning 3D.
With Stream to 3D, you can experience your favourite entertainment in a whole new way. So why settle for 2D when you can have 3D? Try Stream to 3D today, with the 1 week free trial and see the difference for yourself.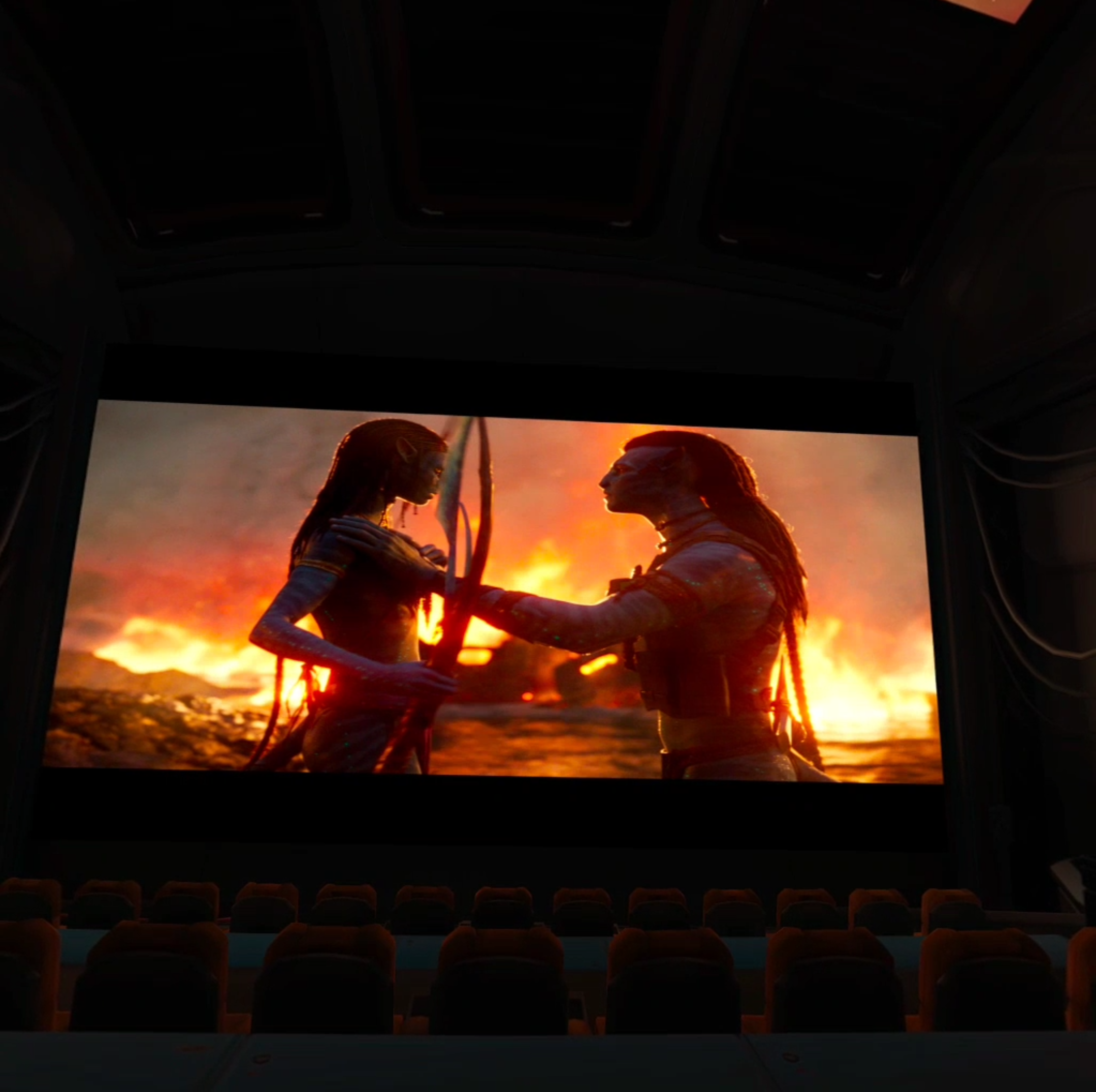 Stream to 3D has been conceived as a light-weight solution to run alongside PCVR media players that take the PC screen as video input for 3D rendering. See Stream to 3D in use with BigScreen VR (Steam Version) below:
Although providing the unique capability of fully automatic real-time video conversion to 3D, Stream to 3D also provides state-of-the art off-line conversion of 2D video to 3D, either one video at a time or in batch mode. Batch mode supports conversion of multiple videos in parallel, limited only by machine resources. You can also watch on-the-fly converted video whilst off-line conversion is conducted in the background, assuming the host machine has sufficient resources.
To obtain the clearest idea of the quality of the conversion solution, you can download full resolution versions of the 3D converted "Avatar: The Way of Water Trailer" and "Pacific Rim" in different formats and at different frame rates from here.
3D output is generated at 24 FPS by default, but 3D output frame rates at up to 120 FPS can be selected, with a range of standard frame rates in between; 30, 48 and 60. Frame rate conversion is a resource intensive activity, but on a modest 3060 GPU based laptop, it is possible to achieve real-time conversion frame rates of 48 FPS on 1080p input with HSBS 3D output. Obviously, unless you have a beast of a machine, the higher frame rates would be more appropriate to apply in off-line conversion.
Stream to 3D also supports generation of a wide range of different 3D output formats with Out-of-the-box preset configurations for BigScreen (Steam VR) and Virtual Desktop. You can also establish your own configurations for specific scenarios. All settings are fully customisable through the UI and the configurations can be saved and reloaded as required.
Hardware and Software requirements are given here.
See what people are saying:
"u/iwantaholodeck, just tested stream to 3D and found the result very convincing. Much better than other converters I tried..."
"Did some testing on it today and am super impressed with the results..."
"Software is good so far, for standalone and streaming use. I can recommend this.  So thank you"
"I bought this on standalone and i did test it so far with very good results. I do like the speed of the program especially for taking movies with me on travels, with the oculus..."
"Hey good job with the 2d to 3d movies for virtual desktop"
"ANYWAY it's awesome software and i am happy i bought it."
Go to Stream to 3D Store now to start your free trial!