2D to 3D Full Resolution Examples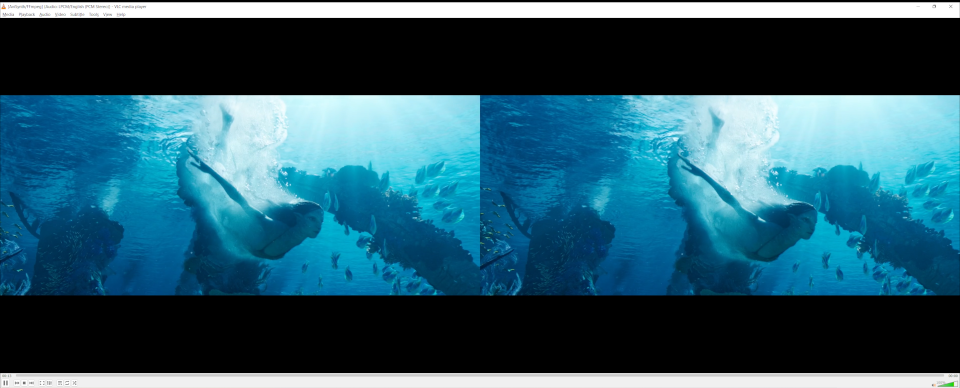 Below are download links for the "Avatar: The Way of Water" trailer, converted from 2D to 3D in a variety of 3D output formats at full resolution, using the latest version of the enhanced algorithm described here.
You can download these examples from the browser of your VR headset and try them out in your favourite VR media player in order to get an idea of the quality of the conversion algorithm.
In the context of the Stream to 3D solution, the matrix below shows the formats supported by a selection of VR Media players:
| 3D Format | Stream to 3D | Virtual Desktop | BigScreen | Pigasus | SkyBox |
| --- | --- | --- | --- | --- | --- |
| Full SBS | Y | Y | | Y | |
| Full TB/OU | Y | | | Y | |
| Half SBS | Y | Y | Y | Y | Y |
| Half TB/OU | Y | Y | Y | Y | Y |
Notes: The easiest way to try these out is to play them back in VLC, MPC-HC or PotPlayer on your Windows PC and view them with Virtual Desktop in your VR Headset (Full SBS works best at up to 4K Desktop Resolution).
You could also use BigScreen (Steam VR)  - note that BigScreen supports Half SBS not Full SBS - so use that as your test case. It also has a fixed 16:9 Display Aspect Ratio (DAR) (which is handled when using Stream to 3D), but these examples are not BigScreen specific.
Playback of the full format versions of these examples from local storage (on a Meta Quest 2 headset at least) seems to stutter in Pigasus (half format appears fine).
Sky Box VR player can play back the full format versions without stuttering (but needs to have the aspect ratio set manually - as it expects half format videos for SBS and TB).
BigScreen standalone from local Quest 2 storage would require the videos to be converted from .mkv format to .mp4 in order to play.
"Avatar: The Way of Water" in a variety 3D Formats for Download:
Full SBS (207 MB)
Full TB (205 Mb)
Half SBS (139 Mb)
Half TB (139 Mb)
You can also find a variety of lower resolution trailers in Half SBS format here. These will play straight away in the browser of your headset without having to download them.
The original 2D source for the conversion can be found below: